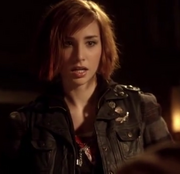 Knock Knock
Welcome to my page. I'm Thunderbird, I enjoy long days spent watching Warehouse 13 and short walks to the fridge.
Among my favorite shows Warehouse 13, Eureka, My Little Pony: Friendship is Magic, Being Human, The Middleman, bla bla bla bla more tv shows.
I enjoy cats and (sorta) play guitar. If I'm not on Tumblr, odds are I'm on Twitter make tweets that most likely only I find funny.
My favorite pages
Edit
My favorite episodes of Warehouse 13
Favorite Artifacts
Favorite Regent is...