In the 1920s, Walter Schlage created an artifact lock pick that can open any lock after he grew tired of locking himself out of his own inventions.
It was used by Pete and Myka to unlock the Count of Saint Germain's Crypt in order to snag the Count of Saint Germain's Ring, and by Artie to unlock the Hobbes Gallery while looking to snag Vincent Van Gogh's Stormy Night. It's currently in Artie's Bag.
Real World Connection
Edit
Walter Reinhold Schlage was a German born engineer and inventor, best known for the bored cylindrical lock, which today can be found built into almost any doorknob, and the lock company that bears his name, Schlage Lock Co.. Later in his life he became known as the Lock Wizard of Thuringia, referring to the German federal state where he was born. Schlage would work at his job and then return to home where he experimented with lock mechanisms. His first patent was in 1909, inventing a door lock that turned lights on and off. He later invented the first lock with a push-button centered in the door knob.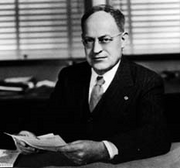 Appearances
Edit