"
It's a thousand pages long, I'll wait for the movie.
"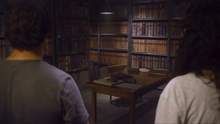 This manual is given to Warehouse agents to help explain the Warehouse in greater detail, inside can be found information on the layout of the Warehouse[1], information on certain artifacts[2], the Salinger Inventory Scanner[3], and other essential data. Certain pieces of information are not found in The Manual, including content on the Bronze Sector.
When Pete displays his determined ignorance on this front whilst on an artifact hunt in Univille, South Dakota, Claudia invites him to "RTFM", which Pete correctly decrypts as read the manual - emphatically stated.
In "Grand Designs", Pete begins reading the manual, and actually finds it more interesting than he thought it would be.
References
Edit