A red light bulb, used to portray the nose of a famous reindeer, with an overly festive aura.
Properties
Edit
The Nose generates a variety of effects. Hostile to the environment and the people
in it, it supercharges the surroundings with red and green lightning, bringing statues to life and transforming objects into more Christmas-like image (like a dog into a reindeer). Essentially, it makes everything more "Christmas-y".
Display card reads:
PROPERTIES: CAN TRANSFORM PETS INTO CHAOTIC REINDEER 
WARNING: EXTREMELY UNSTABLE AROUND CHRISTMAS DECORATIONS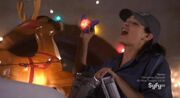 "The Greatest Gift"
Edit
Pete and Myka found the Nose at a house in Fort Lauderdale, where it was causing mayhem. Myka managed to bag the artifact while incidentally creating red and green sparks, and it was moved to the Aisle of Noel.
Ad blocker interference detected!
Wikia is a free-to-use site that makes money from advertising. We have a modified experience for viewers using ad blockers

Wikia is not accessible if you've made further modifications. Remove the custom ad blocker rule(s) and the page will load as expected.