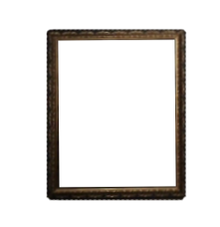 A frame constructed by Rembrandt's master framer out of wood from the acacia tree of Iusaaset, also known as the Tree of Life.
A painting placed in the frame becomes a sort of prison; looking at it without proper protection will draw the viewer into the canvas.
Mrs. Frederic said that this is why some of Rembrandt's paintings looked so lifelike. Removing the painting from the frame will reverse the process, with each prisoner being released in the reverse order they were trapped.
Artie used the frame along with a painting to trap the members of the Brotherhood of the Black Diamond, including Brother Adrian, inside the painting while he was under the effects of Ferdinand Magellan's Astrolabe.
Real World Connection
Edit
Rembrandt Harmenszoon van Rijn (15 July 1606 – 4 October 1669) was a Dutch draughtsman, painter, and printmaker. An innovative and prolific master in three media, he is generally considered one of the greatest visual artists in the history of art and the most important in Dutch art history. Unlike most Dutch masters of the 17th century, Rembrandt's works depict a wide range of style and subject matter, from portraits and self-portraits to landscapes, genre scenes, allegorical and historical scenes, biblical and mythological themes as well as animal studies. His contributions to art came in a period of great wealth and cultural achievement that historians call the Dutch Golden Age, when Dutch art (especially Dutch painting), although in many ways antithetical to the Baroque style that dominated Europe, was extremely prolific and innovative, and gave rise to important new genres.
Iusaaset, also known as Iusaas, is a primordial goddess in Ancient Egyptian religion. In Egyptian texts, she is described as "the grandmother of all of the deities". Iusaaset was associated with the acacia tree, considered the tree of life by the Egyptians. The oldest known acacia tree was situated just north of Heliopolis, which therefore became identified as the birthplace of the deities. Iusaaset was said to own this tree, just as Osiris owned the sacred willow. The acacia tree was renowned for its strength, hardiness, medical properties, and edibility. Many useful applications gave it a central importance in Egyptian culture.