Stockings owned by the Dutch spy Mata Hari, they are an incredibly powerful seduction artifact.
Background
Edit
The stockings were owned by Margaretha Zelle, a Dutch exotic dancer and alleged spy (under the stage name Mata Hari) during WWI. They say she used her powers of seduction to get military secrets out of her many lovers. The stockings were given to a diplomat who was a lover of Mata Hari.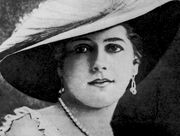 'Merge With Caution'
Edit
The stockings were later used by Lauren Andrews, the great granddaughter of Mata Hari's lover, to manipulate insurance executives into donating large amounts of money to charity as revenge for denying an insurance claim which led to her brother's death. The stockings were then recovered by Claudia and Artie, though they were damaged beyond use in the course of the events of the episode.
'No Pain, No Gain'
Edit
The stockings were stolen from the Warehouse by the Brotherhood of the Black Diamond as a warning to Artie to reverse the effects of
Ferdinand Magellan's Astrolabe
, but were retrieved.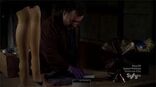 Properties
Edit
Direct contact with the artifact causes men to be infatuated with the wearer of the stockings to the point of psychotic obsession and violence literally driving them crazy. Tearing or harm to the stockings cancels out the effects.
Real World Connections
Edit
Margaretha Zelle worked as a double agent in World War One, and was known for seducing her "marks" for information, a femme fatale who used her body to her advantage. When found guilty of her espionage, she was shot by a firing squad for treason, dressed to the nines: boots, suit... And stockings. Presumedly, these same stockings eventually ended up in the Warehouse.
Appearances
Edit
Ad blocker interference detected!
Wikia is a free-to-use site that makes money from advertising. We have a modified experience for viewers using ad blockers

Wikia is not accessible if you've made further modifications. Remove the custom ad blocker rule(s) and the page will load as expected.