The Dimensional Conversion Camera turns people into monochromatic two-dimensional versions of themselves, and back.
Background
Edit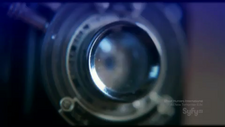 How it Works
Edit
This camera, when someone gets their picture taken with it, turns people into a black and white 2D version of themselves. When this 2D version gets its picture taken, it reverts them back to their normal 3D state, with them thinking no time has passed for the duration of time they were in two dimensions.
Extra Info
Edit
This artifact is one of Artie's emergency artifacts he keeps in his bag.
Appearances
Edit
Ad blocker interference detected!
Wikia is a free-to-use site that makes money from advertising. We have a modified experience for viewers using ad blockers

Wikia is not accessible if you've made further modifications. Remove the custom ad blocker rule(s) and the page will load as expected.