Coming from the thief who hijacked a Boeing 727 aircraft in the airspace between Portland, Oregon, and Seattle, Washington, on November 24, 1971, extorted 200,000 dollars then parachuted to an unknown fate.
Exact effects unknown, but implied to help people infiltrate high security places like Warehouse 13.
This artifact was used by the hallucination of
Brother Adrian
brought on by the downside of the
Astrolabe
in Artie's brain.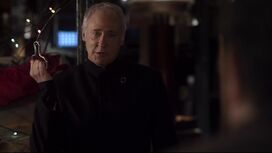 Appearances
Edit
Ad blocker interference detected!
Wikia is a free-to-use site that makes money from advertising. We have a modified experience for viewers using ad blockers

Wikia is not accessible if you've made further modifications. Remove the custom ad blocker rule(s) and the page will load as expected.