Rudolph's Nose
Comments

0
466pages on
this wiki
Rudolph's Nose


Vital statistics
Effects
Alters its surroundings into something more festive.
Source
Unknown
Danger
Moderately High
Activation
Subjection to an electric current.
First Appearance
The Greatest Gift
A red light bulb, used to portray the nose of a famous reindeer, with an overly festive aura.
Properties
Edit
The Nose generates a variety of effects. Hostile to the environment and the people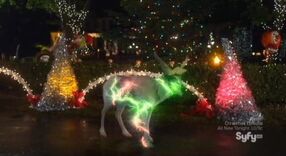 in it, it supercharges the surroundings with red and green lightning, bringing statues to life and transforming objects into more Christmas-like image (like a dog into a reindeer). Essentially, it makes everything more "Christmas-y".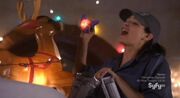 "The Greatest Gift"
Edit
Pete and Myka found the Nose at a house in Fort Lauderdale, where it was causing mayhem. Myka managed to bag the artifact while incidentally creating red and green sparks, and it was moved to the Aisle of Noel.