Beatrix Potter's Tea Set
Comments

0
469pages on
this wiki
Beatrix Potter's Tea Set

Tea Pot for brewing the Tea
Vital statistics
Type
Tea Pot w/t Tea Cups
Effects
Stimulates the users part of the brain where imagination and creativity is located
Source
Beatrix Potter
Danger
Mild
Activation
Drinking Brewed Tea
When tea is brewed in the pot and is drank from a tea cup, the part of the drinker's brain that deals with imagination and creativity is stimulated, which is probably why Beatrix started writing children's stories. However, it also can cause suppressed memories and thoughts to become conscious and make the user have a panic attack.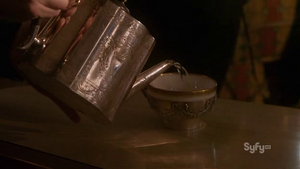 Three of the tea cups were already in the Warehouse, but the pot and the last cup were still missing. They were finally located in Eureka (the setting of another Syfy show) when Douglas Fargo had created a virtual reality game. However, he couldn't find a way to make the brain accept the reality to the game, so he decided to cut corners by using an artifact. Fargo didn't know that the artifact also brought out what's in a person's subconscious. The players' worst fears started to become real in the game, and Fargo and his friend became trapped there. With the help of Pete, Myka, and Claudia, Fargo and his friend managed to escape the game, and the last of Beatrix's tea set was consigned to the Warehouse.
At the start of A New Hope, a shocked Pete looks at the artifact's melted remains.
Real World Connection
Edit
Beatrix is best known for her children's books including "The Tale of Peter Rabbit", but she was also a natural scientist who brewed fungus and berries in her pot. However, the tea set also brings out the darker parts of a person's subconscious and can lead to delusions. By a perusal of Beatrix's earlier rough drafts of her children's books, her darker side may be seen; in one story Peter Rabbit gets caught in a trap set by Farmer Macgregor and he has to chew off his own leg to escape. Another possible connection to reality is the Utah teapot or Newell teapot as its creation is famous point in the history of 3D graphics which are one of the core components of virtual reality.
Appearences
Edit